Tap Truck Amarillo
Transforming your dream event into something classic and timeless to remember. Weddings, Corporate Events, & Private Parties were bringing the mobile bar experience to you!
Now servicing - 
Pampa, Shamrock, Hereford, Darhart & Canyon, Texas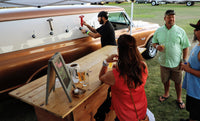 Throwing a party?
Our "Bomb City" Tap Truck is Tapping events all over the Texas Panhandle with a '69 GMC Panel Truck named Penny. Let Penny Tap your event!
Contact
Book Your Event
Ready to Impress your guest and serve some drinks

Any Occasion and Any Beverage
✔ Weddings                  ✔ Beer and Wine
✔ Birthdays                  ✔ Juice
✔ Parties                     ✔ Soda
✔ Corporate Events      ✔ Coffee
✔ Festivals                  ✔ Tea
Book Now!